JAMB ORIGINAL RESULT SLIP & ADMISSION LETTER
This page analyzed full details on how to: Download and Print Original JAMB Result Slip Online. Print JAMB Admission Letter Online 24/7. Buy JAMB e-Facility Scratch Card to check and print JAMB Original Result Slip or Admission Letter Online.
Joint Admissions and Matriculations Board is a full form of JAMB. It is an Authorized Education Body created to conduct & oversee entrance examinations for candidates seeking admission into higher institution of learning such as Universities, Monotechnics, Polytechnics, Colleges of Education, School of Innovation etc.


JAMB conducts her examinations annually, and immediately the result is released, candidates are free to check their results on JAMB official website. This is often called Temporary Result Slip. The temporary result slip that is available free of charge on JAMB Portal cannot be used for any other processing that the Original JAMB Result slip has to offer, because it contains fewer details.
Original JAMB Result Slip is an authorized slip that JAMB endorsed and recommend candidates to print, with this slip candidates can:
Fulfill requirements and criteria to pursue admission into different schools.
Write Post UTME Screening Exams
Enroll for NYSC
Accept Admission of Schools etc.
In addition, Original JAMB Result Slip contains:
Complete candidate record (Biodata)
Candidate's Passport-sized photograph
Institution details etc
JAMB Scores
For JAMB Admission Letter on the other hand, once a school admits candidate, the Admission Letter is immediately available on JAMB Database and he/she is required to present the document at Admission Office of the said school. Also, candidates that his/her name failed to appear on Matriculation list is expected to print both Original JAMB Result Slip & Admission Letter, then submit it to Admission Office.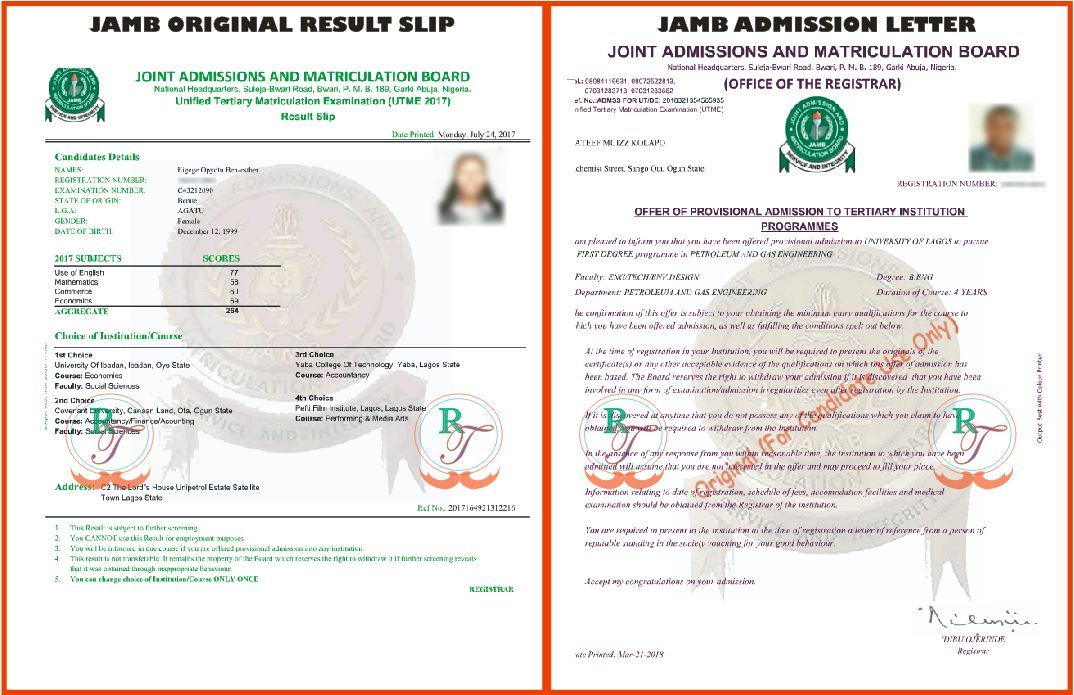 Reliable Technologies is a renown ICT Institution registered in Nigeria; our tactical approach in solving problem is second to none. As a part of our effort to make things convenient for candidates, we make different Educational services available in our Institution, in which JAMB services is amongst. With us, enjoy the below JAMB services easily:
Downloading/Printing of JAMB Original Result Slip
Downloading/Printing of JAMB Admission Letter
Change of Course and/or Institution
JAMB & Post UTME Registration
Profile Creation
Correction of Names, LGA, STATE, Date of Birth etc
Regularization of Admission
Uploading of O-Level Results on JAMB Portal etc.
*** Services we offered are at Official JAMB Rates... This means you won't pay more than the JAMB stipulated price on selected products.
Using our e-Service Channel on this website, candidates can now easily get their Original JAMB Result Slip or Admission Letter at flat rate of One Thousand Naira Only (N1,000) as duly stated by JAMB. The Original JAMB Result Slip or Admission Letter is directly downloaded from JAMB Database and sent to your mail at no additional costs. There are so many benefit you enjoy using our e-Service Channel. Amongst are:-
ADVANTAGES
Quick & Efficient - You have your JAMB Admission Letter or Original Result Slip delivered to your mail in minutes...
No bank or Gateway or Remita Fee - pay only what you see...
No usage limit - you can print your Admission Letter/Result Slip as many time as wish from your e-mail...
Immediate customers' service - our personnel are always ready to serve you...
Multiple file formats - We deliver your Admission Letter or Result Slip in PDF & JPEG Formats...
All Exam years available - From year 1995 till date is available for downloading on the JAMB Database...
Tested & Trusted - We have many happy customers that have enjoyed our services....
Guess what? Aside all these benefits, it only take 3 simples steps to use our e-Service. They are:
Click MAKE PAYMENT Button. This will trigger a form which you will need to fill with correct information.
Select your preferred payment method and pay.
Check your mail in the next 5 mins & your ordered services is there (Original JAMB Result Slip or Admission Letter)... So Simple!
NB: Should you require further help? Our customer support agents are always here to help…